Frequently Asked Questions (FAQ):
Liquid Immersion Cooling – basic informations:
You need enclosure or tank or bath filled with dielectric fluid, that will house your miners. The tank needs hydraulic fittings with correct diameter that will provide inlet and outlet of the fluid. The fluid must circulate, so we need the pump that will provide enough liters per minute flow. The fluid goes through the miners, takes the heat and warms up. This hot fluid must be circulated from the enclosure – so we need some heat exchanging or rejection device. It can be just a brazed plate heat exchanger that has a "hot" and "cold" side. You can connect to the plate heat exchanger for example tam water (but that would waste so much water) or the dry cooler. So from the enclosure, you run the tubing we provide to the dry cooler. Since dry cooler requires fresh air it must be placed somewhere outside the building, ideally under the sunshade, on the north side of the building. That's it: an enclosure with fluid and miners, pumps that circulate the fluid, tubing, and heat exchanging device as a dry cooler.
Miners must be prepared with custom firmware so the lack of fans will not be a problem for the system and sometimes small changes (removal of thermal paste from ASIC chips or PSUs).
We design, manufacture, and deliver all components of the immersion cooling system: enclosures, dielectric cooling liquid, heat exchangers, dry coolers, all complimentary components like switchgear, monitoring sensors and software, fittings, tubing, accessories, pumping stations, etc. We serve customers that require a simple single enclosure, rack systems, and container or scale-out installations.
Just a few simple steps:
New miners require
– removal of the fans

– opening the PSU covers, removal of thermal paste from a few components

– installation of custom firmware that will not require fans to operate

– removal of stickers with the heat gun if possible

– compressed air cleaning

– immersion in the fluid and shake cleaning if possible.
Used miners require:
– removal of the fans

– installation of custom firmware that will not require fans to operate

– opening the PSU covers, removal of thermal paste from a few components

– removal of stickers with the heat gun if possible

– detailed cleaning with compressed air

– ideal two-stage: spray cleaning then immersion/shake cleaning in the cleaning bath
The general rule is to:
Remove all unnecessary parts like fans, plastic covers, sidewalls, etc. And anything that can block fluid flow. 

Removing fans requires custom firmware to eliminate any alarms or shutdowns that occur when the fans are not discovered by the system or rotation speed is below some threshold that generates system alerts. There is a lot of free firmware available, some manufacturers like MicroBT provides custom firmware for Whatsminers for free

It may not be possible to shut off the fans on the power supplies, this isn't a problem, so it's ok to allow the PSU fans to run in the fluid.

Most miners have solid thermal epoxy. If not thermal paste or pads (for example from GPU or CPU or PSU components) must be removed and replaced with solid material (we will advise).

Install software or hardware that will allow you miner to work without the fan (cheat the system). It's so-called "spoofer" or can be achieved with special software – also good for overclocking 

Clean the unit firmly (compressed air is good, but maybe not sufficient). You can use special cleaning fluids or solvents.
After immersion – no dust, no corrosion, no burned boards as the dielectric fluid protects from overheating, vibration, shortcuts, dust etc.
Facility / Heat rejection devices
How to remove the heat?
as described on the installation examples and our quick video startup manual The cooling system requires a heat rejection device. The immersion system is used to transfer the heat from the miners in a silent and very effective manner. But it also requires some device or loop where that 20-30-40-80-120kW heat will be received. Because we use hot mining method (the temperatures in our enclosures may reach 60C/140F and above, we have very effective heat transfer, even in a hot or humid climate. Whether its single enclosure or rack or multiple racks – we have 3 options to connect to our system and remove the heat  :
1. water connection to home/facility heating or cooling loop
2. water connection to the tap water
3. or connection to the dry cooler.
In this setup, our Liquid 2 Liquid (L2L) Immersion Enclosure has its own pump and heat exchanger which circulates internally our dielectric heat transfer fluid. Thermasafe R dielectric liquid is very effective at heat pickup. Fluid circulates internally and takes the heat from the immersed miners. Then the heat is transferred with the enclosure brazed plate heat exchanger to external water or water-glycol loop. As mentioned it can be tap water/home heating loop / direct connection to the pool or nearby lake – everything is possible! But what is most convenient is the connection to external dry-cooler.
Description of the available options:
ad 1. At home, you can use a connection from our dual loop enclosures to the heating loop. In moderate or cold regions most of the homes will have own separate heating/cooling loop. This local system can reuse the heat from the miners if needed, and there will be multiple contractors available to connect it to your loop without andy problem. The heat from the miners can heat up the home radiators, the pool, home hot water boiler, or even jacuzzi. And that can be connected by local heating services/installation company
ad 2. If you live in a flat you use tap water. The problem may be the bill for the water but you have the silent operation of 20-60 miners at your home. Water connection requires 0.5 to 1 m3 of water per hour. Our L2L enclosures can be connected to tap water without any additional investment.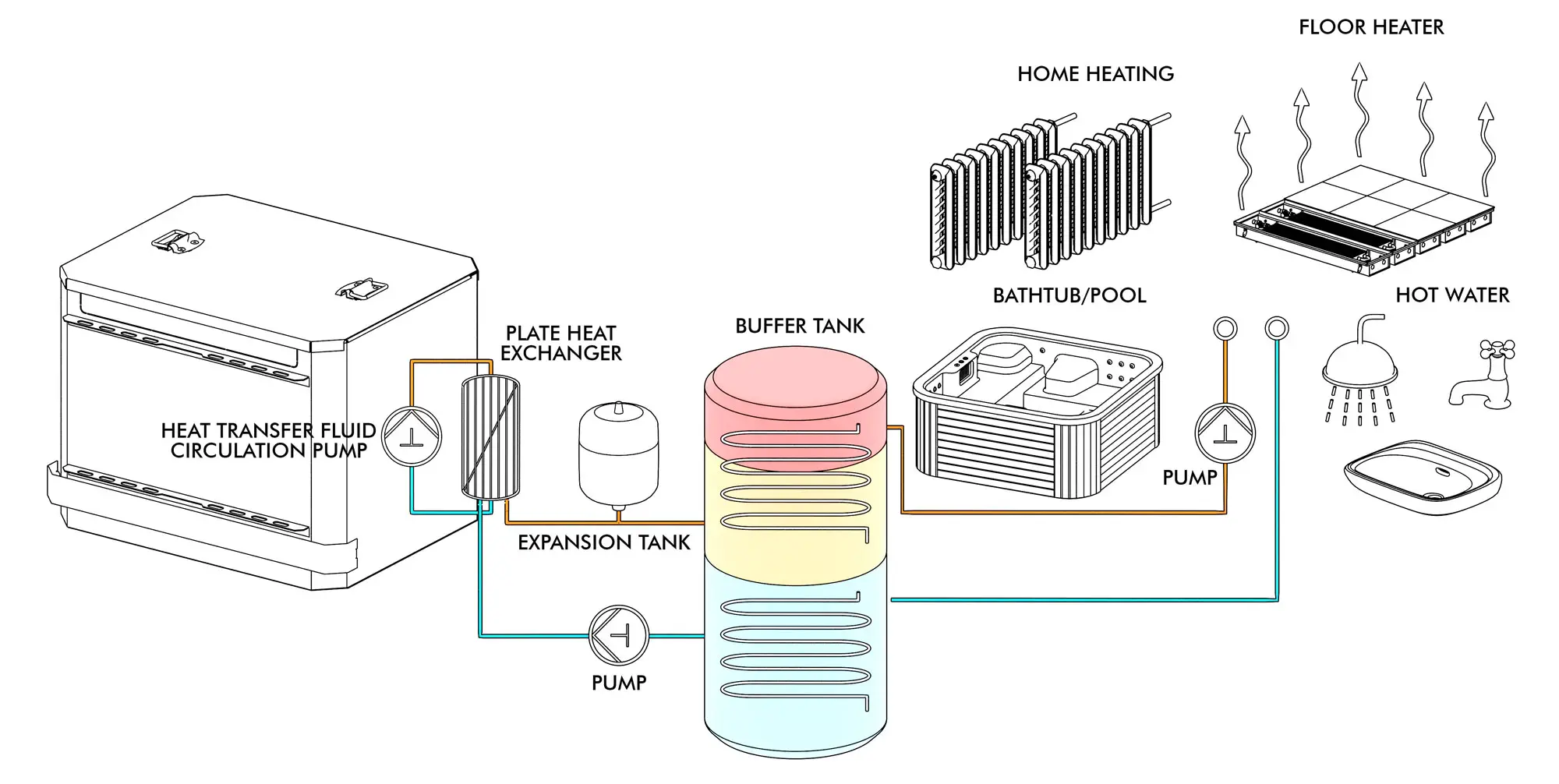 ad 3. Dry coolers are the most effective way to remove the heat. They can be standing or table-flat dry coolers. They do generate some noise but it's just 51-55 dB(A) 10m away. Dry coolers must be placed outside – near the building or on the flat rooftop of the building. It is ok for commercial or industrial area, but rather not for residential / housing areas. The dry cooler is a close loop system so no water is wasted – it circulates the same water/glycol mixture.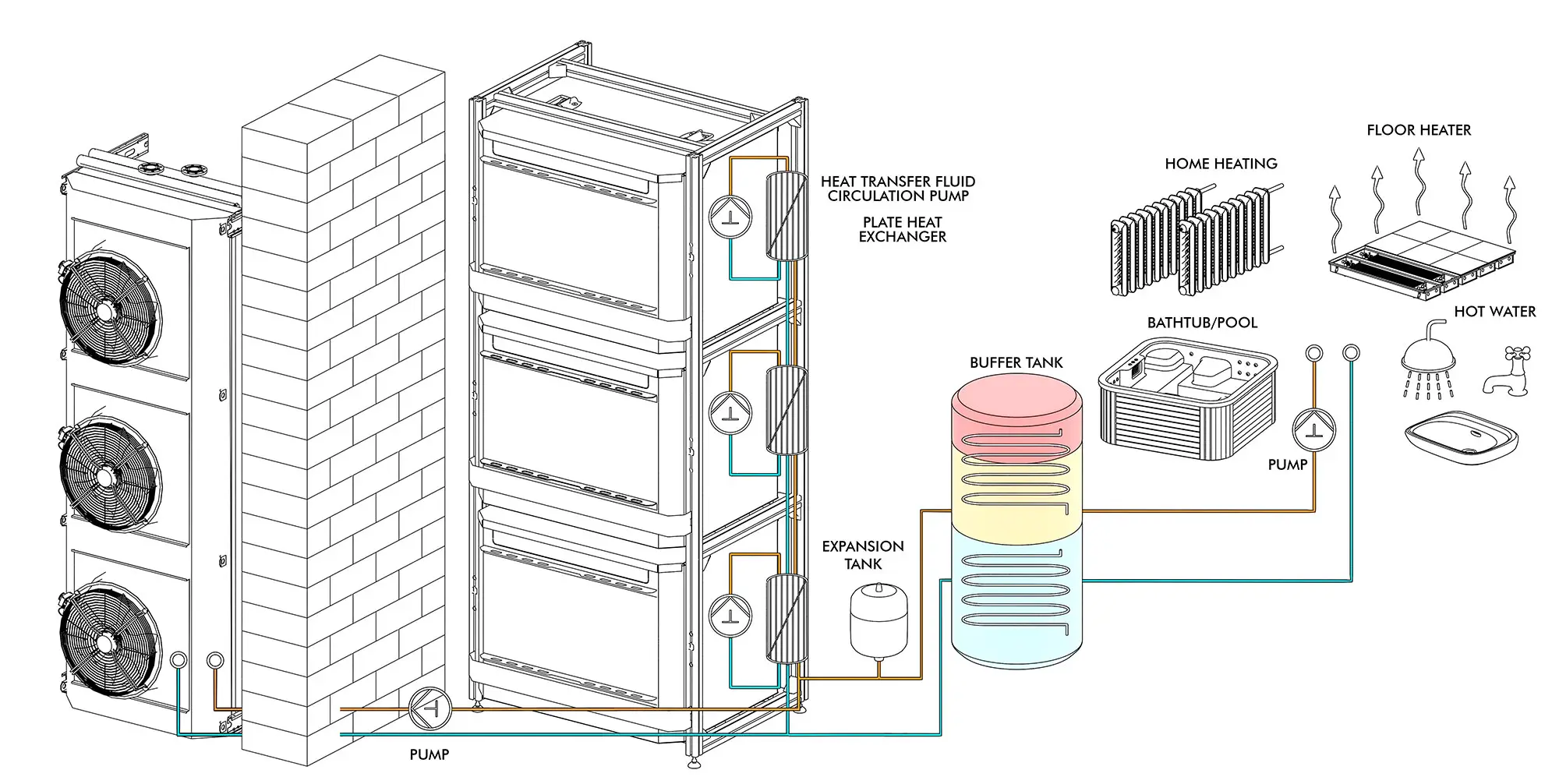 We have a broad portfolio of dry coolers – see them here. And there are 3 basic types quickly available:
 – a) 32kW (35C outside) / 42kW (20C outside) dry cooler. A small system for single enclosure for a single enclosure has its own pumping system that will circulate the fluid for a 10-20 meters of tubing.
 – b) 80kW dry cooler for 2 or 3 enclosures with limited capacity – require pumping station which we also deliver.
 – c) 127kW dry cooler – larger 2 x 2 m dry cooler that supports single rack with maximum capacity – require pumping station which we also deliver.
Cryptomining Immersion Enclosure or Cryptomining Immersion Rack has multiple options to remove the heat. With the small help of the chiller unit, they can use an additional source of cold water, even in very hot regions or countries. The L2L enclosures can be also installed as a part of a bigger system and used for heat reuse.  A 99% of the heat from the miners can be reused for any commercial application (farming / drying ) or home/company heating.
Immersion system installation examples:
Immersion Cryptomining Rack System Installation Examples
All our systems are built for easy scale from a single enclosure, to multiple racks. If you need more than a single enclosure we offer scale-up rack systems. Using Universal Enclosures as building block they occupy 1 sq. meter of space, but provide a huge 24xS17 or 20 M20s density. Those are connected to external larger dry cooler, or facility heating/cooling loop at your home, garage, workshop or business. Please see simplified drawings of possible installations setups.
A) Scale-up: Immersion Rack system
Our rack system is based on Dual loop Universal Immersion Mining Enclosures with custom aluminum frame and table which allows middle enclosures to be slide out from the rack for maintenance. Originally with 3 enclosures but might be stacked to 4 enclosures. This system may be delivered with two types of heat rejection: single enclosure – single loop with dry cooler, or all enclosures connected to facility loop. We recommend the second solution which allows for greater flexibility and scalability.
In scale-up scenario one rack with 3 or more dual loop enclosures connected in series. Each enclosure has own brazed plate heat exchanger and low power, energy-efficient pump. Heat transfer fluid circulates only in enclosures. On the other side, we would use a typical water/glycol heating loop that may reuse the heat for facility purposes or reject the heat to a larger 50-70-100kW dry cooler. Both solutions provide unparalleled density and scalability.
We suggest that such a rack system or dry cooler should be installed by a local contractor which specializes in heating/cooling systems.
B) Same but with optional dry cooler
Rack system transfers from 50 to 70kW of heat so it requires larger heat rejection device. We suggest dry cooler as 50-60C fluid can be easily and cost-effectively extracted to air without air conditioning, chillers and water towers. The 50-100kW range dry-cooler will be connected to the home or facility loop using own auxiliary low-power pump.
Dry coolers are flexible and easy to size and may be upgraded to any heat load by adding more modules in series. They will use convection for most of the time and are simple to operate.  When properly sized for the local climate, the fans on a dry cooler should only be operated for no more than 20% of the time and only during the hottest time of day. They also require very low maintenance, so they do have lowest operation cost from any other heat rejection methods.
Ideally connected by local home installations / heating contractor which can help you to size and maintain your installation in the long term.