Smart immersion mining systems.
Immersion liquid cooling system
for crypto mining operators.
Reliable and affordable liquid cooling solution providing energy savings, unparalleled hash rate increase, and complete noise, dust, and fire protection.
We deliver large, all-steel enclosures and industrial-grade hydraulic components. No small & cheap plastic tanks or PVC pipes. The biggest capacity in industry & investment for years.
Overclocking and fine-tuning with custom firmware effects from 40% to 60% more hashrate. No fans or air handling results in less energy wasted. Ask for immersion firmware!
Designed with simplicity and safe operation in mind. System deployment is as easy as assembling an IKEA kit. We provide full support for any scale or on-site installation.
Immersion in the liquid fully protects from temperature, humidity, dust and vibration or fire. No fans = no noise, more profit, less downtime & less maintenance.
NEW Immersion Mining Enclosure
Even bigger, all-steel, plug & play v3 immersion enclosure. Complete immersion mining system. Delivered on a single pallet alone, or with the NEW 40kW rated ICP40 – integrated dry cooler/pumping system & dielectric fluid.
Immersion Mining Enclosure – active immersion system with integrated hydraulic fittings, heat exchanger and circulation pump.
Front mounting frame – used to lift and manipulate the enclosure in the rack, and also to mount any external component like PDU, switchgear box od PSU
Switchgear box – optional component may be mounted on the front of enclosure. Contains overcurrent protection, circuit breaker, cable fittings, terminal blocks, cabling. We use top class Schneider, Eaton, Legrand or Siemens components.
Main compartment of the Immersion Mining Enclosure – fits 8x S19 / S17 miners or 12 or even 13x Whatsminers. May be configured flexibly for mixed miner configuration.
Mounting points for zip ties to secure miner cabling.
Enclosure baseplate (not visible) used to disperse the flow evenly, slow down the speed od the circulating fluid and make it more turbulent for the better heat rejection. Used also to configure the flow through the installed miners.
Heat rejection compartment to separate hot fluid from the main compartment and prevent mixing.
Overview
Most that started crypto-mining at home or business, know that cryptocurrency mining is getting harder. The rising difficulty, huge power consumption, very loud noise, a massive amount of heat, the large footprint of spaced-out devices, dust, vibration, humidity, regular maintenance of fouled miners, and no possible way to overclock are already hot devices, low reliability, and frequent repairs. All that means downtime and makes crypto mining inefficient and painful. This is why we created Universal Immersion Mining Enclosures.
DCX Mining Enclosure v3 is a "plug and mine" system available for every individual that goes pro with more devices or small-medium-large mining operators. Immersion cooling with Thermasafe – single-phase, material-compatible dielectric engineered fluid solves all the above issues. Immersion Mining Enclosure HODL's up to 60-80 GPU's, or 8 of S19/S17 miners, or 12 M3x Whatsminers. Enclosure protects the electronic equipment from high temperature, humidity, dust, and vibration – the main causes of electronic equipment failures and makes mining convenient without the high pitch noise of multiple miners.  The single enclosure is a building block of all of our solutions and can be scaled to a complete rack or multiple rack system.
START FROM
€ 1100 / $ 1344
NEW v3 Immersion Mining Enclosure with hydraulic fittings, 110kW plate heat exchanger, and 160lpm / 42 GPM continuous duty pump (260W). Requires a heat rejection device (dry cooler) or connection to the facility water loop. Net prices. Does not contain dielectric fluid or dry cooler, which are sold separately.
WE SHIP WORLDWIDE
Immersion Enclosure System
Immersion Enclosure with heat exchanger, pump, flow director  – without the dielectric fluid. Ready to connect the facility cooling loop.
Immersion Enclosure + Dielectric Fluid
Bundle
Immersion Enclosure with ThermaSafe Dielectric Fluid, Switchgear box, and Temperature Monitor / Sensor – ready to connect to facility loop. 
Enclosure & ICP40 Dry cooler
Bundle
One pallet – complete system. Immersion Enclosure with ICP – 40kW integrated Dry Cooler. Dielectric fluid, switchgear, all you need to start.
| Component | Specification |
| --- | --- |
| Dimensions | 80(W)x75(D)x55(H) |
| Heat Transfer Capacity | 41kW |
| General construction | All-steel |
| Heat Exchanger | Brazed Plate 110kW |
| Circulation Pump | Dielectric fluid compatible 160 lpm / 42 gpm with 8m pressure |
| Dielectric Fluid | 200-230L |
| Heat Rejection | Water loop or ICP40 (40kW Integrated Dry Cooler/Pumping Unit) |
| Max temperature | 68C/154F |
| Power Distribution | Optional Switchgear |
| Monitoring | Temperature Sensor and Software optional |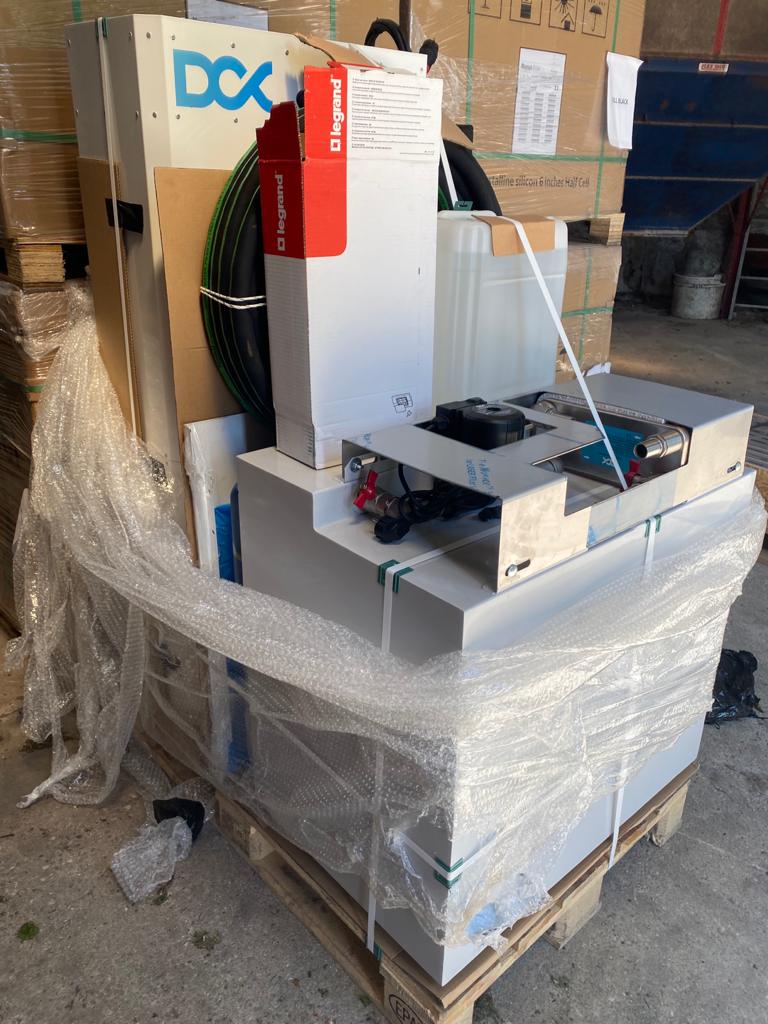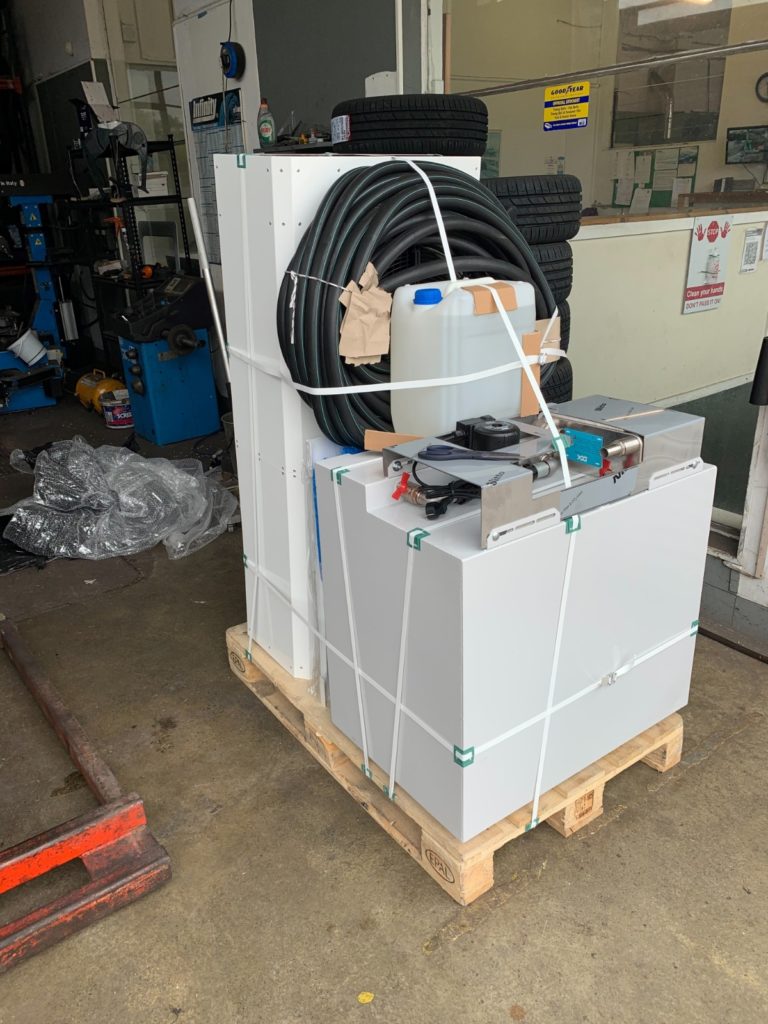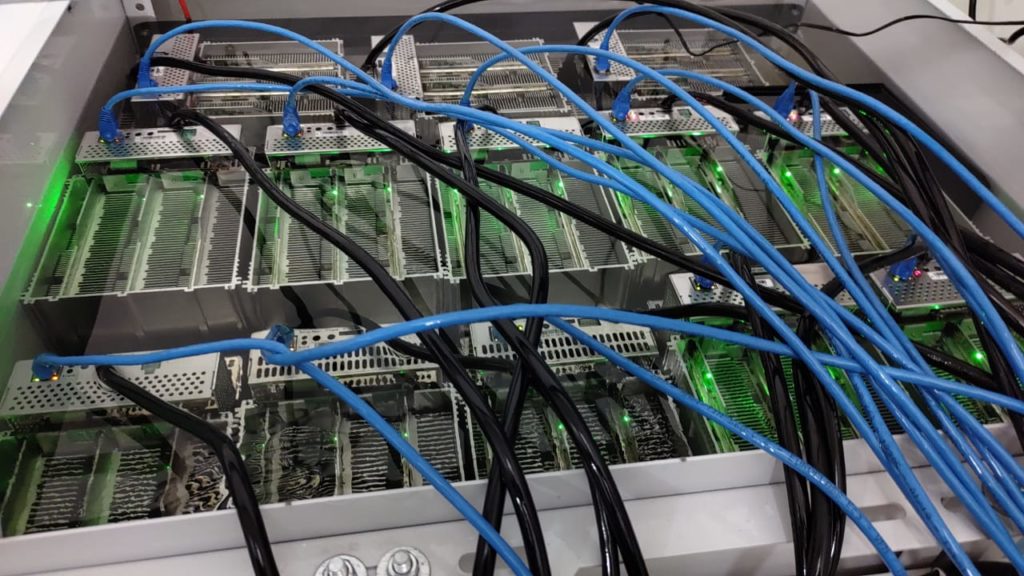 Quick intro
Unboxing of the Immersion Enclosure package and quick intro to the system components.
What you get – bundle
Enclosure with 40kW dry cooler. We have a new ICP40 now, but you see what you get in bundle package.
Installation & Startup
You bought the package – now what? Quick installation guide for effective commissioning of this smart immersion cooling system